Get yourself a WordPress Test Website in 2 seconds!!
To put it simply, this is absolutely brilliant!!!
I regularly have a need to create a WordPress Test Website for either customer development reasons, or to test theories and/or plug-in's, and I usually do it in a sub-folder on one of my existing websites.
This works fine, but there are implications.
For one, there is a drain on my Server's resources, and I need to exclude the development website from backups. I also use up a spare SQL Database, and then there is the time involved in doing all these things.
And if you experiment on a Live Website and something goes wrong, there is the hassle of troubleshooting and fixing that up too. So it makes sense to use a WordPress Test Website.
But I just found a new FREE service by qSandbox (yes you read that right, a Free Service), where you can not only setup a Test Website for free, but it literally takes only two seconds to setup.
You just visit their website at http://qsandbox.com/app/, and create an account by filling in 3 fields on a Form that include your Website Name, your Email Address and your chosen Password, then click "Create Account and Setup Site"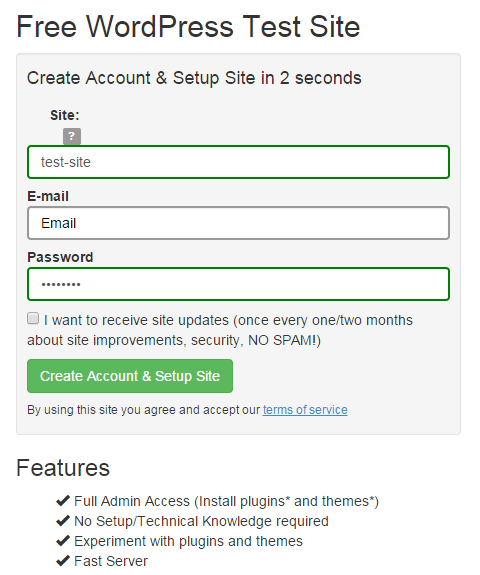 You can watch their informative video below:
The Free Account only includes one website with the following Features: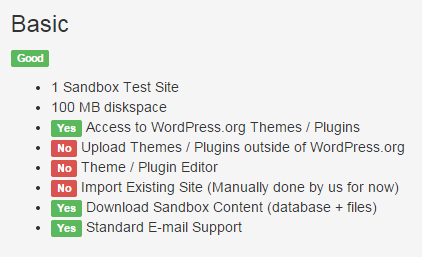 But for as little as $2/month, you can get a whole lot more including the ability to Import an existing Website and Upload and Edit Themes.
It is certainly worth checking out if you need a WordPress Test Website to test plug-in's.
0
0
Admin
https://www.websitedesignmorayfield.com.au/wp-content/uploads/2022/08/Logo-Website-Design-Morayfield.png
Admin
2014-12-15 09:53:36
2014-12-15 09:53:36
Get yourself a WordPress Test Website in 2 seconds!!