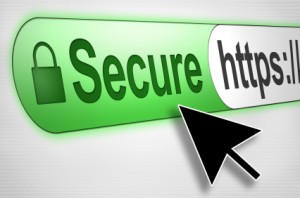 Well it's been 5 minutes since Google moved the goal posts, so I guess it's time for them to make another change. Can you tell I am being sarcastic?
Now it seems that in an effort to make the web a more secure place, Google will favour encrypted websites (those websites with an SSL Certificate and having the https prefix) over standard non-encrypted websites.
This will place an additional cost burden on website owners, but it may or may not be a bad thing depending on your point of view.
Encouraging website owners to do this will indeed make web surfing a safer past time, but unless your website is collecting data, I don't see that it is a real necessity.
But on the other hand, it certainly won't hurt.
SSL Certificates
I guess it is already having the desired effect.
The impending move to penalise a websites ranking because it is unencrypted has made me purchase an SSL Certificate and install it on this very website.
Those of you who are astute may have noticed that all the pages on this website are now prefixed with https instead of http. The 's' after http denotes that it is a secure connection.
It was a relatively painful exercise in the end, but it did require the Host to install it and set it up on my behalf.
So get ready boys and girls. If you don't want your search rankings to fall, you may need to consider purchasing an SSL Certificate!!!
FYI, there are several types of SSL Certificate available. They are the Standard SSL Certificate (from $33/yr), the Premium SSL Certificate (from $75/yr), and the Wildcard SSL Certificate (from $500/yr).
Click on the links above to see pricing and to purchase one.
All SSL Certificates are 128/256 Bit Encryption, and trusted by all Browsers.
There is also a fee of $88 to set it up if you cannot do it yourself.
*EDIT
For the time being, Google won't be penalising sites heavily if they don't enable HTTPS. The company describes it as "a very lightweight signal — affecting fewer than 1% of global queries, and carrying less weight than other signals such as high-quality content". But once webmasters have been given time to switch their sites over, the search firm warns that "we may decide to strengthen it, because we'd like to encourage all website owners to switch from HTTP to HTTPS to keep everyone safe on the web."
0
0
Admin
https://www.websitedesignmorayfield.com.au/wp-content/uploads/2022/08/Logo-Website-Design-Morayfield.png
Admin
2014-08-13 18:01:55
2021-04-30 10:08:07
Google to give preference to Encrypted websites in search results