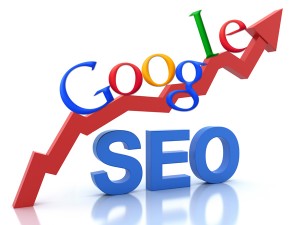 The first step to getting found online is obviously to have an online presence via a website.
But simply having a website isn't enough. Unless you are appearing in Search Results, and preferably somewhere near the top of the first page, then the only way people will find your website is through advertising.
Advertising can take many forms including print and signage, but there are online alternatives ranging from free and paid for Internet Business Directories like Start Local, True Local, Hotfrog and the like.
In addition to that, Google have their own "Paid For" advertising called AdWords.
But wouldn't it be great if your website appeared right at the top of the first page of search results without paying for it?
These results are called "Organic Search Results". Those are the results that naturally appear at the top of the Search Results page and that's what SEO is all about.  Getting to the top of the results page.
Getting to the top is easier said than done.  Google's algorithm for determining the ranking is secret, so any individual or company that tells you that they can guarantee a number 1 result, or even a page 1 result, is probably in need of a reality check.
Having said that, there are plenty of things you can do to help your cause.  So with that in mind, here are my Top 8 SEO Tips:
Read the Google SEO Guidelines – Google actually give you a clue about what you need to do. It takes some of the guesswork out and spells out exactly what you should and shouldn't be doing. It's amazing how many people attempt SEO without reading this first.  Do yourself a huge favour and read the Google SEO Guidelines.
Use a good SEO Plug-in – Something like All-in-one SEO Pack or better still WordPress SEO by Yoast. It has a "Content Analysis Function" which will help you write better content and help you optimise your website's Page Titles and Descriptions, and displays a Google snippet preview. It will also automatically generate XML Sitemaps which Google uses to help Index your website.
Write Good Content – DO NOT fall into the trap of keyword stuffing. Write original content from the heart. Google is all about the End User Experience and trying to serve up the best result for it's customer's. If you write unoriginal garbage, or you plagiarise content from another website and change a few words here and there, have no doubt, you will be penalised. You will hear this term everywhere, but it's true, when it comes to Google Search Results, Content Is King.
Do Regular Updates – Add content to your website regularly.  But not just any content, content that is relevant to whatever it is your website is about (See previous point). It can be in the form of Reviews, Tips and Tricks, News Articles or a Blog Article like this one you are reading right now.
Avoid Using Flash – Whilst Flash animation can add some pizazz to your website, unfortunately Google's Search Crawlers have no idea what information they are displaying.  So from an SEO point of view Flash is bad.  But another downside is that Apple devices don't support Flash and anyone viewing your website with an Apple Computer or Tablet etc will not see it.  So there is a double wammy.
Structure your website clearly – Every page on your website should be accessible from at least one link on the site, and preferably from the menu structure. Hiding the visibility of pages is a big No No. Your Navigation Structure should be logical and easy to navigate. If you have to jump all over the page to find things, then that presents a poor user experience and you will suffer the consequences.
Generate Backlinks – Backlinks are links on other websites that link back to you. Ideally they should come from websites that are related to your industry, and the Anchor Text used should be a keyword that is beneficial to you. An example would be Website Design Caboolture. The Anchor text in this example is "Website Design Caboolture" which links to this website at the url www.websitedesignmorayfield.com.au. Generating backlinks is not an easy task. It is even harder generating backlinks from websites related to your own industry. After all, who is going to link to a competitor?  Some backlinks will occur as a matter of course through people just doing it, but you can also register your business on internet directories as previously mentioned. Whatever you do, DO NOT fall for paying for backlinks as this will most certainly see you penalised by Google.
Do Key Word Research – Decide on the keywords you want to target and use them in the content on your page, and in the Page Title and Description.  But don't forget to use other words related to those keywords.  For example, I might want to target the keyword or phrase "Computer Repair". Examples of related keywords would be, "PC Repair", "Fix Computer", "Computer Technician", "Computer Servicing" and so on. To do keyword research you can try using tools like the Google Keyword Planner, or SEMRUSH.
Summary
So this is the reality, SEO is a slow process. You can get some moderate results quickly, but SEO is a long and laborious process that is ongoing. Stick to the SEO Guidelines and adhere to the rules, and at least you won't be penalised. Remember, if you try and pull the wool over Google's eyes, you will lose. Stick to trying to create quality, relevant content and make the user experience a priority, and you should see positive results.
0
0
Admin
https://www.websitedesignmorayfield.com.au/wp-content/uploads/2022/08/Logo-Website-Design-Morayfield.png
Admin
2013-08-27 16:54:43
2013-08-27 16:54:43
Top 8 SEO Tips