Quite often I find that when I am discussing Google search results with clients and the general public, they don't realise that in most instances, the first 3 results in a Google search are "paid for advertising".
And just as surprising is that they don't realise that the results shown down the right hand side are also "paid for advertising", even though they are clearly labeled as "Ads".
The first three in particular because they have a shaded background colour making them stand out more.
Nonetheless, quite a number of you out there just don't notice.
Take a look at the image below for the search term "website design morayfield":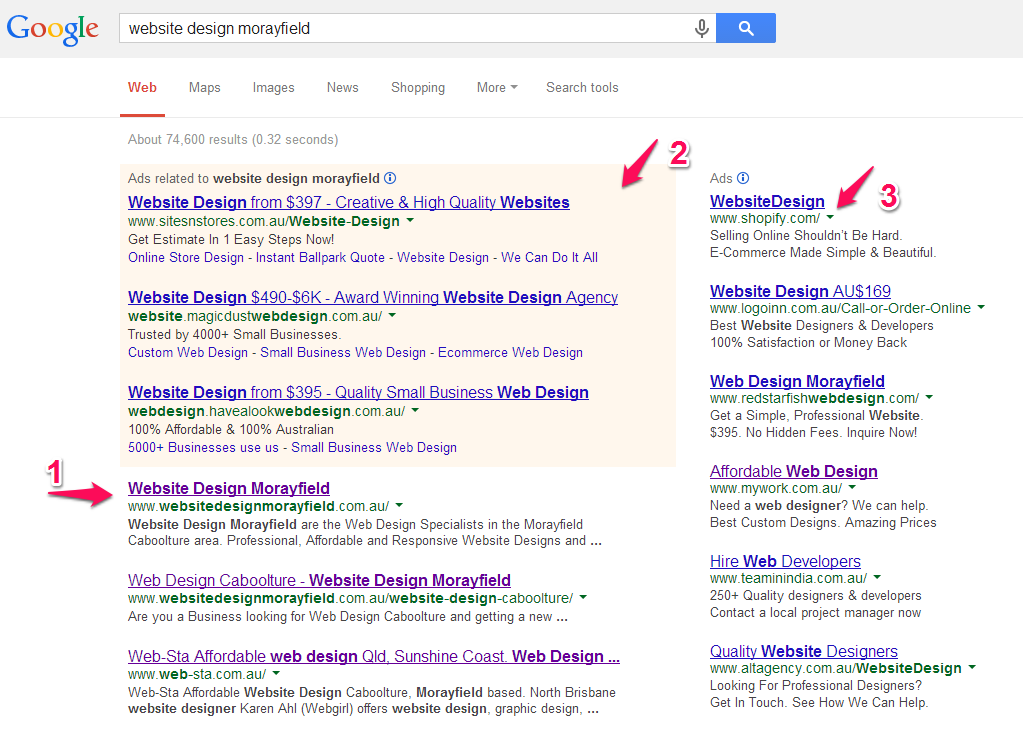 Arrow "1" is the actual number one ranked search result. Or in other words, it is the number 1 organic search result.
Yet it is the area indicated by Arrow "2" that most people believe are the first three organic results.
Now this can be a problem, not because advertisers get the number 1 spot, but because the bad guys can advertise here just as easily as legitimate businesses, and you can potentially be directed to something that may not be what you are searching for, or something that you may be manipulated into downloading and installing on your computer.
For example, you may be searching for "Adobe Reader". If you don't take note of the web address, you'll just look at the first Advert result and assume it's the Adobe website, and you'll visit that website and download something that may or may not be malicious, or at least not what you were looking for.
The last Arrow, number 3, shows the other advertising that Google serves up to searchers. Again, these Ads may or may not be relevant to your search, and may or may not be relevant to you.
So just be aware of what is advertising and take note of the web address or URL and be diligent.
0
0
Admin
https://www.websitedesignmorayfield.com.au/wp-content/uploads/2020/07/Logo-1030x300.png
Admin
2014-02-09 18:00:05
2015-09-25 12:17:09
Do you understand what it is you're seeing when you do a Google search?